Did you know, every files loss case cannot, and should not be handled by novice? Some files loss cases, especially the physical files loss cases need special handling from expert technicians with good number of years to backup their knowledge. The reasons behind this is that hard disks are very delicate and need careful handling, to protect files saved in them from getting lost permanently. That is why these hard disk recovery cases are generally referred to specialized files recovery services software, more so in cases where data backup is not maintained, a hard disk is a storage media that may encounter data loss owing to various reasons that include spindle motor damage, system metadata structure corruption, accidental dropping of the hard disk, read/write head crash, formatting of the hard disk, actuator arm damage, failure of disk controller, user errors, malfunctioning of the operating system, file system corruption, virus infection, user errors and various similar situations, it is a challenge.
There are a number of Data Recovery Software which can help you to retrieve data from formatted hard drives. As long as the data has not been overwritten, this software can help you to recover the data in a jiffy. After formatting the hard drive, if you have not created a backup folder for the data, it is a challenge for you to get the data from the formatted hard drive. It is in such cases Data Recovery Software, like the 321Soft can help you.
Awards: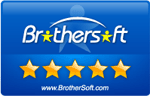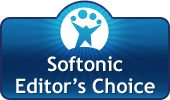 Please follow these steps to recover data from hard disk which has been formatted on Mac OS X:
You should boot the system in the normal method, with hard disk attached. Download
321Soft Data Recovery For Mac
, which should be installed in the main drive of the MAC. Remember not to install anything else on the hard drive, since it is like to overwrite the data on the drive.
Step 1: Run 321Soft Data Recovery for Mac and click Continue.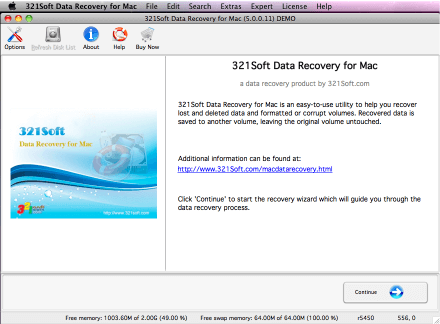 Step 2: Choose a media that best fits your data loss problem.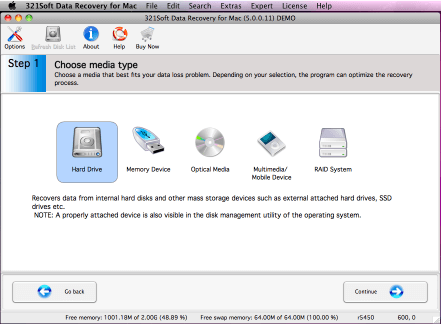 Step 3: Select a volume you want to recover data from. If your volume is not available, select the disk that did contain your volume.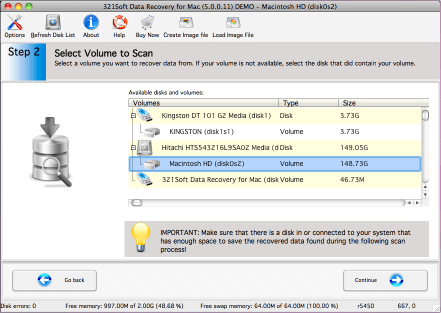 Step 4: Choose a recovery scenario that best fits your data loss problem. Recovers data from a formatted volume. it can also be used to recover lost files from a non-formatted volume. This option takes more time in scanning but has better chances of recovery. it scans every block of a volume for lost file system structures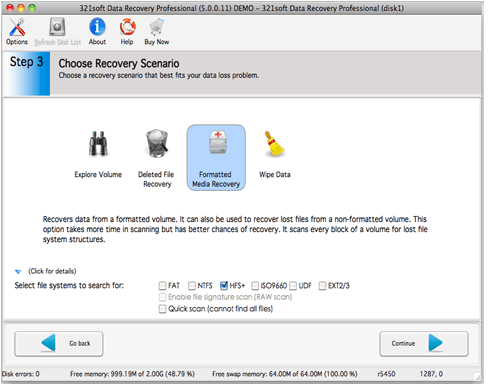 Step 5: Check your selected options and start the scan. Go back, if you want to change one of the options. If you are satisfied with your options that you have chosen, click Continue to begin the scan for your lost data.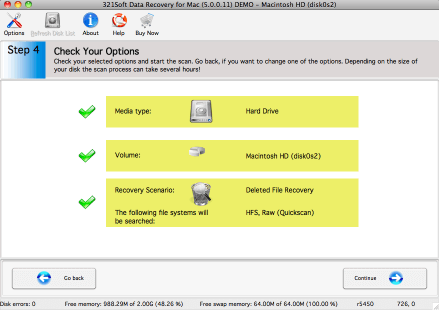 Scanning:
Depending on the size of your disk the scan process can take several hours! You can also choose to view the log messages in the scanning window if you need to do any troubleshooting of the scan.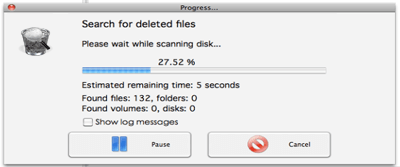 Step 6: Select and save the files you want to recover to another disk. You can check the quality of the recovered files by using the built-in viewer or by opening the files with their associated applications.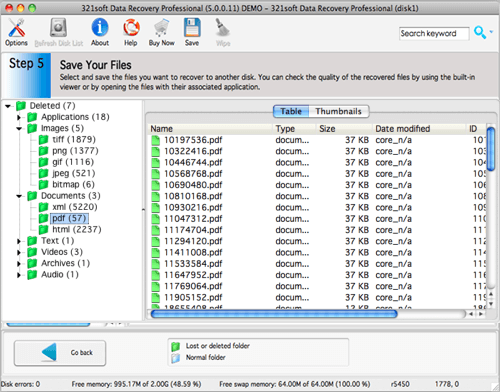 Please notice that the scan may have found partial or corrupt files. Test the files with your application to actually find out if the files could be recovered completely.

Ready to Recover Formatted Hard Disk on Mac? Just click the button below and begin Formatted Hard Disk Recovery on Mac!
Find out why we're ranked #1

Ready to recover your files and folders? Download the Free version Now!