There are many different iPhone recovery programs out there. 321Soft iPhone Recovery for Mac specializes in recovering photos,videos, and other files that have been deleted on iPhone, iPad&iPod, even without these iOS devices

- by: CNET staff on OCT 30th, 2014.
---
Overall,it does a great job at recovering lost files from your iOS devices or iTunes backups. Just launch the software, and all you'll have to do is press "Next"

- by Softonic Editorial Team.
Why iPhone is very popular among people? The most important reason is that iPhone has obvious high quality than other cell phones, especially its high quality of taking photos. So lost of iPhone users prefer to take photos with iPhone instead of camera for the reason that iPhone is a multi-functional cell phone and is convenient to bring with. But it may give you a heavy blow when you lose your iPhone photos due to jailbreak, updating, accidental deletion or other unexpected reasons. Because many people think there is no way to recover iPhone files once removed by accident. As iPhone has unique storage mechanism which stores all data on the internal flash drive other than expanded storage through a memory card slot, or the SIM card etc. But the fact is that there are still several means to find your lost photos back. Now I will show you three main ways of recovering lost photos from iPhone.
Check iCloud and Photo Stream
iCloud is a cloud storage and cloud computing service from Apple Inc. launched on October 12, 2011. It can let users to backup photos on iOS devices running iOS5 or later. Backups occur automatically once the device is locked and connected to Wi-Fi and a power source. So if you have an iCloud account, your lost data will be still on the latest iCloud backup if you have made one of them.
Photo Stream is one special feature of iCloud service. If you have enabled Photo Stream and your iPhone is connected with Internet,, the photos will be uploaded to iCloud, then iCloud servers will automatically push the photos to the rest of the user's registered devices, like iPad, iPod, Mac computer or other iPhones. So you can turn off your iPhone and disconnected your other devices with Internet immediately.  Then backup the photos on your computer from other devices.
Recover Photos from iTunes Backup
iTunes is another great feature of iPhone that we should not forget. It is a core element to connect and sync data between iPhone and iTunes. So your photos will be backed up by iTunes automatically and they can be updated along with the later sync. But you have to know that you can not view those backup photos unless you restore the entire backup to your iPhone or  use some software using special algorithms to extract.
So 321Soft iPhone Recovery which runs under Mac OS X is designed to resuce lost iPhone photos from iTunes backups. It supports to recover lost photos from iTunes backups and has free version for users to preview photos before purchase. Now I will show you how to use 321Soft iPhone Data Recovery for Mac.
Awards: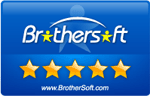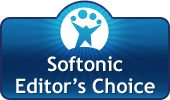 Step 1
Install 321 Soft iPhone Data Recovery for Mac, you will see the interface below. This software has two recovery modes to meet different needs. Here just choose recover from iTunes backup files.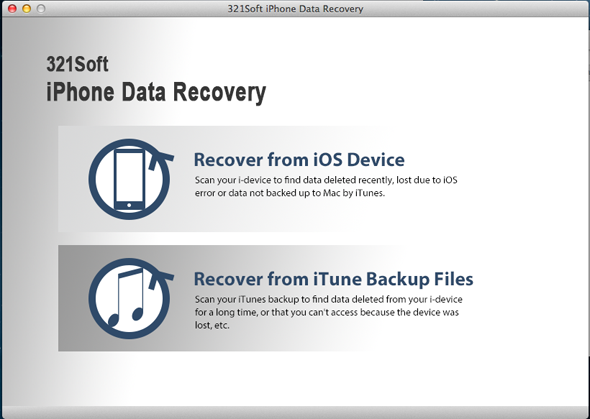 Step 2
Then the software will start to scan your iTunes backup files.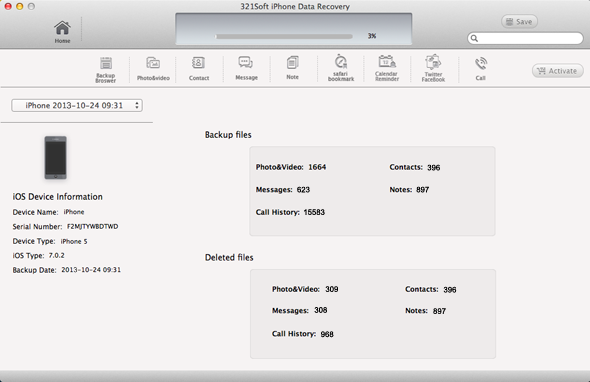 Step 3
When the scan is completed, please click Photos&videos. And you will see the preview of photos in your iTunes backup. It may take long time to show all photos depending on the quantity of photos. Then select the photos you want to recover and click "save" to save lost photos into your computer.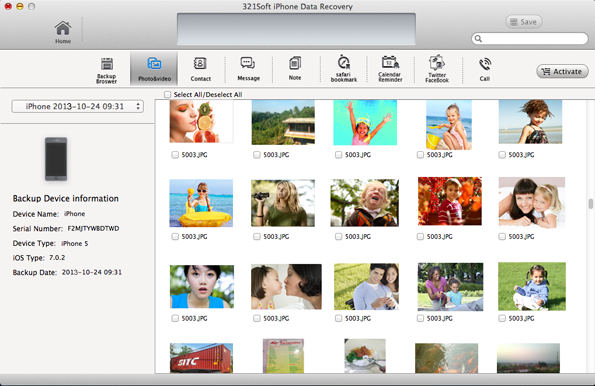 Now, you lost photos are recovered from iTunes. Then you can sync these photos to your iPhone again. In a word, using the software is the easiest way to recover photos from iTunes backups remain your current data.
Directly Recover Lost Photos from iPhone
You may have such a question: If I have not used iTunes to back up for long time and have not enabled iCloud, can I still find my photos back? Of course you can! 321Soft iPhone Data Recovery for Macprovides with another recovery mode---- Recover for iOS Device. It will directly deep scan your iPhone and recover your lost photos as long as they are not overwritten by new pictures. So you had better stop using your iPhone when you lose your photos. The following it the tutorial of directly recovering lost photos from iPhone with 321Soft iPhone Data Recovery for Mac
Step 1
Connect your iPhone with Mac OS X computer and run the program. Then choose Mode 1: recover from iOS device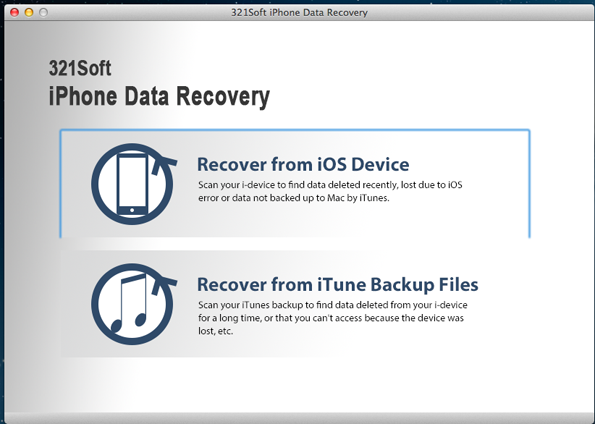 Step 2
Once you choose the mode, the software will deep scan your iPhone. Please wait until the scan is completed and do not disconnect your iPhone while scanning.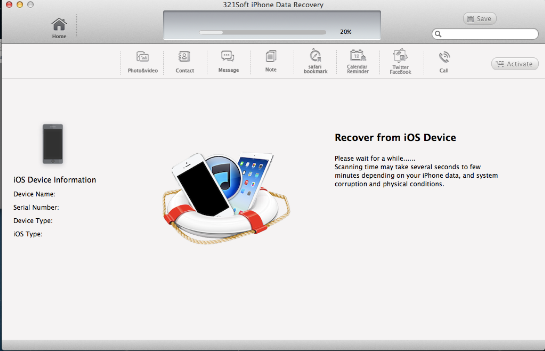 Step 3
After the scan, click "Photos&videos" and you will see the preview of photos in your iPhone (includes current exist photos and lost photos). Then please select the photos you want to recover and click "Save" to save them. Now you can see your recovered photos in the chosen folder.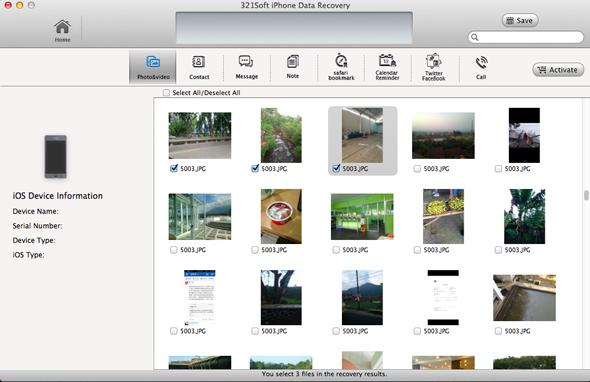 Tips: Please use our trial version to preview and make sure that your lost photos are not overwritten. Then you can decide whether to purchase it or not.
Find out why we're ranked #1

Ready to Recover Lost Photos from iPhone? Download the Free version Now!