It's easy to convert RAW photos on Mac. And you can convert multiple files at the same time.

- by: CNET staff on March 21th, 2020.
---
Does exactly what it is meant to do, If you're frequently converting image files, 321soft image converter is the perfect tool for you. It gives you unprecedented efficiency!

- by Softonic Editorial Team.
Almost all Pentax digital cameras can take pictures in RAW file format. PEF is the file extension of the RAW format extracted from Pentax digital camera. It contains all the data that is captured in the camera lens. The image taken is very clear, which results in a huge file size that is usually a few MB to tens of MB. With that, it is difficult to upload the files online or send them to your customers and friends. The PEF files might not be viewable and editable on computers and mobile phones that do not have professional software installed on them. For these various reasons, you will need to convert PEF files to JPG, PNG or TIFF formats.These file formats are more popular and most commonly used formats. Almost all software and digital devices such as mobile phones, tablet PCs, PSP, electronic photo album etc. support these file formats. You do not have to worry about any issues of file format compatibility problems or big file sizes.
How to Convert PEF to JPG, TIFF or PNG?
The easiest way to convert Pentax PEF to JPG, PNG or TIFF format is to use a batch RAW conversion program, such as 321soft Image Converter. It can convert various RAW images, including PENTAX (.PEF), CANON (.CR2), OLYMPUS (.ORF) etc., to the standard image formats such as JPG, PNG, TIFF and other formats. The software has the ability to convert multiple PEF files to the specified format required. All it takes is just a few simple clicks.
Awards: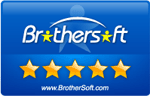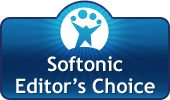 Here is a simple guide in batch converting PEF to JPG, PNG or TIFF on Mac OS X.
First, you need to download 321soft Image Converter, install and start the program.
After starting the program, you can drag and drop all the PEF photos into the program for conversion. All photos added will be listed in the main window.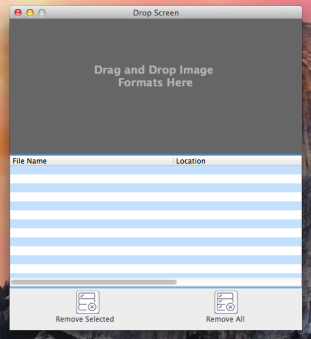 On the left side of the window, check the "Auto (batch multiple files)". You will need to check this for multiple files conversion. This is not required for single PEF file conversion.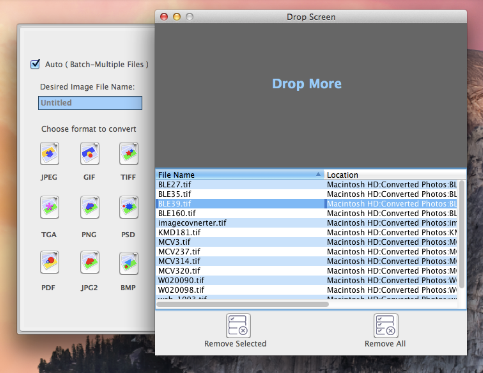 Next, there are 9 output formats listed at the bottom corner of the software interface, which are: JPEG, PNG, PSD, PDF, GIF, TIFF, TGA, JPG 2000 and BMP. You can select the suitable image formats accordingly to your requirements. Output files are automatically saved in the same folder as the original PEF images, which means both files are in the same place.
The whole process is simple and the conversion speed is fast. Even batch PEF conversion of hundreds of images is just within a few seconds.
Just download the trial version and follow the instructions shown.