It's easy to convert RAW photos on Mac. And you can convert multiple files at the same time.

- by: CNET staff on March 21th, 2020.
---
Does exactly what it is meant to do, If you're frequently converting image files, 321soft image converter is the perfect tool for you. It gives you unprecedented efficiency!

- by Softonic Editorial Team.
What is NEF format ?
NEF is the abbreviation for Nikon Electric Film, NEF files are the RAW image files produced by SLR digital camera, and these files are referred to RAW files. In other words, the file extension of RAW files produced by NIKON cameras will be *.nef.
Why do you want to convert NEF to JPG or other common image formats ?
NEF format is uncompressed RAW data from the camera that is not suitable for release and viewing purposes. A JPG file has the specifications of a general image; its advantage is that it has a smaller file size and is suitable for share and saving purposes. If you have a NEF photo that you want to upload to the website, send to a friend or transfer into your phone etc, you will need to convert your NEF photo into JPG or PNG, GIF, TIFF, other formats etc.
How to convert NEF to JPG ?
You will need a third-party program to convert NEF to JPG. Currently there are only a few software programs that can support this, and 321Soft Image Converter for Mac is one of them. It is the easiest and cheapest software that allows you to quickly convert a batch of NEF images to other commonly used image formats on Mac OS X.
The following are simple steps to convert NEF to JPG on Mac OS X :
Step 1:
First, install 321Soft Image Converter, and start the program. The main interface is shown below:
Notice: The software only supports Mac OS X 10.6 or higher !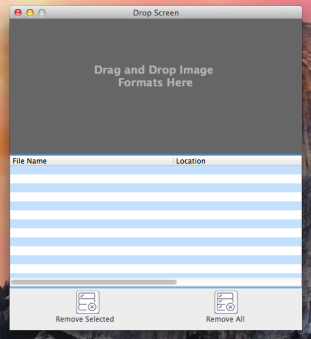 Step 2:
Drag the NEF images that you want to convert to the program's main interface. The output format window box will pop up automatically.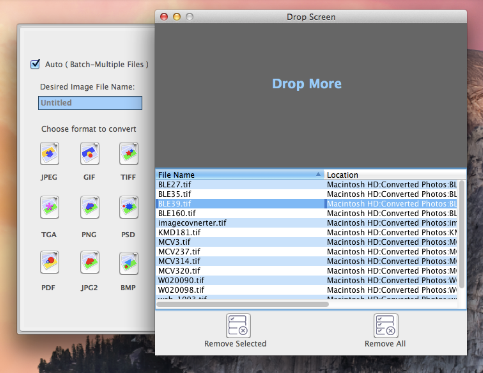 Step 3:
Select "Auto (batch multiple files)" if you are planning to convert multiple files. Below, click on the JPG format for output. The program supports up to 9 output formats. You can also choose a different output format such as PNG, JPG 2000, TIFF, PDF, BMP, GIF, and etc.
With that, the conversion is complete. Both JPG files and your original NEF files are saved in the same location.
Ready to Convert your NEF to JPG format? Download the Free Trial Now!