Are you in trouble about watching and editing videos as a result of incompatible video formats? Don't worry. From now on, you can get perfect solutions.

The 321Soft Video Converter is a revolutionary new software for Mac video conversion. It can satisfy your needs in converting and editing video. The advanced video decoding engine plus simple while nice interface allows you to get high-quality video files with just a few clicks. Whether the normal video formats (e.g. MP4, 3GP, 3GPP, AVI, MPEG, M4V, WMV, MOV, MKV, RM, RMVB, FLV, VOB, SWF, etc.) or 1080i, 1080P or 720P HD video formats (e.g. AVCHD, TS, MTS, TP, TRP, MOD, TOD, HD AVI, AMV, HD, M2TS, HD MKV, HD MPEG-4 etc.), you can convert different video formats to your specified formats by a few simple clicks on the software. It optimizes and preset default parameters for iPhone, iPad, iTunes, Kindle Fire, Nook Tablet, Samsung Galaxy S3, Nexus 7 tablet, PS3, PSP, Blackberry, Nokia, Android, tablets, Zen, etc. It also allows you to customize the settings of output video flexibly.

It goes beyond your imagination, besides converting videos, the 321Soft Mac Video Converter can also edit video. It is easy to merge, clip, crop, preview, capture screenshot video. It can quickly convert video files in the specified time, cut image sizes freely and adjust video brightness, saturation, contrast and special effects processing. It can also quickly capture video images by its video efforts to satisfy your personalize needs. Let the Mac Video Converter takes you into the more colourful multimedia world. Highly Compatible with Mac OS X 10.9 (Mavericks).

It has worked flawlessly, Extensive video formats supported, It's ideal for convert your video, audio formats to fit any device. - by: CNET staff on May. 19, 2014.
---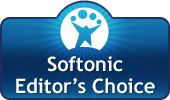 Easily convert between almost ALL video and audio file format available. including less-common video formats, such as AMV, M4V, F4V. Other great editing features include the ability to both split and merge files. by Softonic Editorial Team.
I`m in the business of video production over 10 years now and The 321Soft Mac Video Converter is one the most reliable product that i`ve come across, it has many amazing different features...
--- Tamara Brown
Explore some of the unique features and benefits!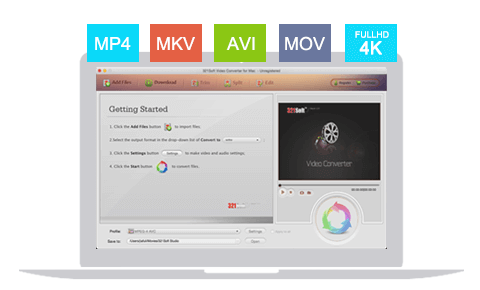 Convert all mainstream video, including the HD video:
The 321Soft Mac Video Converter does not require any third-party decoders and is able to convert a variety of the SD video (e.g. MKV, AVI, MPEG, MP4, H.264, MOV, FLV, F4V, M4V, VOB, DV, DivX, RM, RMVB, etc.), and the HD video (e.g. AVCHD, TS, TOD, AVI HD, M2TS, etc.). (1080p video for new iPad included).
Grabbing audio from video & Convert between audio formats:
The 321Soft Video Converter for Mac supports a variety of audio formats conversion. It converts normal and HD video to MP3, AAC, AC3, ACR, M4A, MP2, RA, WMA, AIFF, FLAC and other audio files. So you can play files in Music players and make the iPhone ringtones.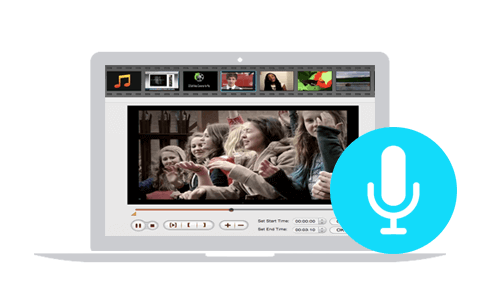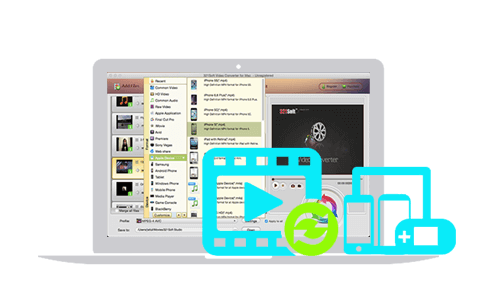 Converting video into a variety of mobile devices directly:
Mac Video Converter default parameters for the iPod, iPad 3, iPhone 4, iPhone 4S, Apple TV, Archos, Sandisk, iRiver, Creative Zen, MP4/MP3 Player, Smart Phone, Pocket PC, PDA, HTC Mobile Phone, Android Phone, Xbox 360 and other high-end mobile devices. The converted video can be completely suitable for your mobile devices. You do not need to worry for the settings and resolution of your devices. For example, when you convert a video for your iPad 3, you can select your iPad icon in the drop-down list called 'Convert to Format'. It is very easy. The software presets formats for the iPad, iPhone and iPhone and the converted video can be 100% synchronized with itunes.


Making compatible video for the Apple software:
The 321Soft Video Converter for Mac can easily create compatible videos for the Apple software by just a few clicks on the mouse. Then you can view and edit video in iMovie, Final Cut Pro, iDVD, Final Cut Express, QuickTime, iTunes, the Adobe Premiere Pro.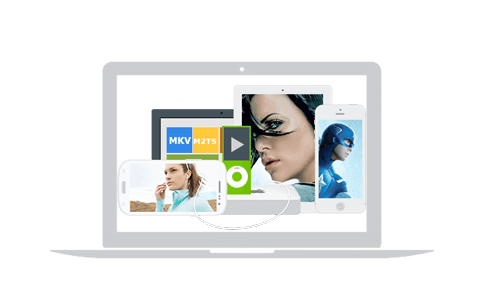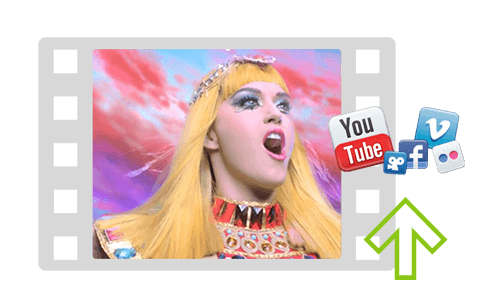 Creating supported video for websites:
As a professional Mac video converter, it can convert video for websites, such as Flash SWF, FLV, F4V, MOV and WMV, and so on. Thus you can upload and share your video to YouTube, Facebook, NetFlix, hulu, DailyMotion, Vimeo, Yahoo! Video, Metacafe and other popular video websites.
Easy to use and conversion in three steps:
We know that you use the software for entertainment and we do best to make it more easy to use for your entrainment. Because of the considerate user experience, an 8-year-old child can also easily convert videos like an expert.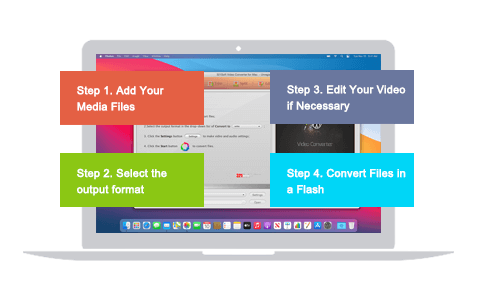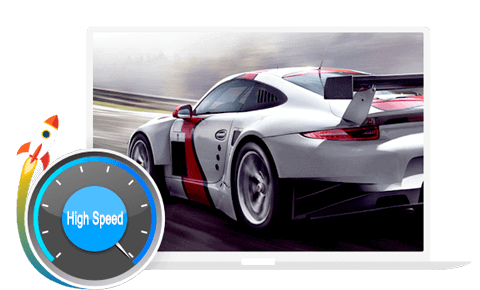 Converting video at high speed:
Nobody likes to wait. The 321Soft Video Converter for Mac checks the type of your CPU automatically and converts video into your devices at right speed. It supports cooperative processing for multi-core CUP. So it can convert high-quality video at high speed without quality loss.
Back to Top
Batch conversion and saving time
The software can convert many audios and videos in a conversion. You can also set an automatic shutdown.
Back to Top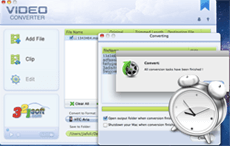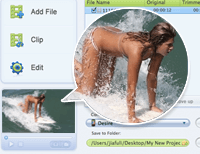 Previewing video and pre-listening to audio
You can preview the converting and the editing video in real time and make sure that you make a perfect video.
Back to Top
Perfect synchronization technology
The software uses advanced sync technology in video and audio. So you have no synchronization issues.
Back to Top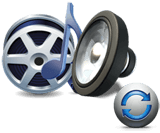 The Essential Video Editing Functions & Features: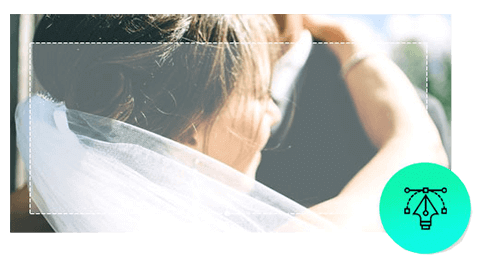 Cutting edge and rotating video
The software can cut the range you do not want and extract the range you like in video. And it also free to rotate any angle of video.
Back to Top
Splitting Video
You can cut video freely by setting time and dragging. You can also split a large video file into several small fragments. The feature is particularly useful when your mobile device does not have enough capacity, or you need to transfer video files to your friends.
Back to Top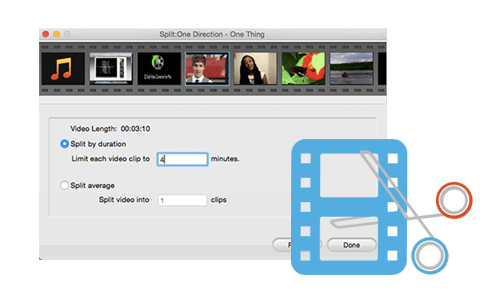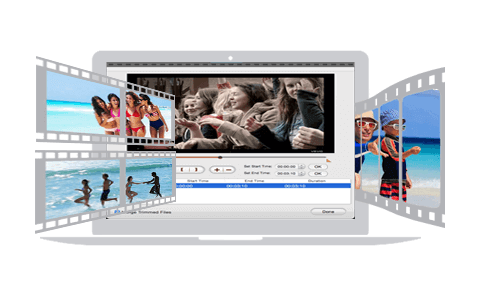 Merging video
You can merge several video and audio files into one file to make your own movie. so that you can enjoy a long video without interruption.
Back to Top
Adding video effects
You can adjust the video contrast, brightness, saturation & resolution. You also can choose video effects, such as Emboss, Gray, and the Old film.
Back to Top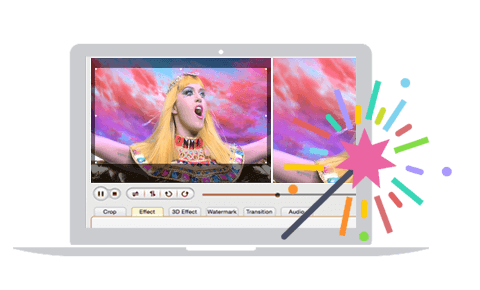 Video screen snapshot
You can catch the image you want when you are viewing the video, and then save to JPG, BMP, or PNG file.
Back to Top
The World's No. 1 Video Converter for Mac

Download It for free today & see for yourself what makes it better than the other Mac Video Converters in the market.