Recording Options - 321Soft Screen Video Recorder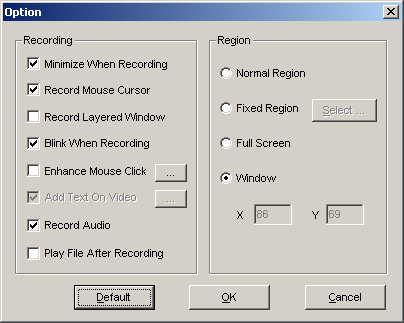 More complex parameters may be set from recording options dialog. By set different parameters, 321Soft Screen Video Recorder may achieve different purposes including mouse cursor, audio, video text, etc.
Minimize When Recording
If you want to hide the 321Soft Screen Video Recorder's main window when recording, then please check this item.


Record Mouse Cursor
If this item is checked the mouse cursor will be recorded in each frame's video. When the video being played back, you will see the mouse cursor's moving tracks. This function is very useful for making software running demo or training documents, that users may see the operation steps.


Record Layered Window



Blink When Recording
If this item is checked the recording area's border will be blinked, and you may know that the area is being recorded.


Enhance Mouse Click
If this item is checked every mouse click will be enhanced by a circle around it. You may click the button "..." beside the item to choose a circle color as you like.


Add Text on Video
If this item is checked every frame of video will be added a text as you preset if you like. If you are using a trial version, this item is grayed out and you can not change the text, the recorded video will shown a default red string says that the video is recorded by a trial version. If you want to remove the text or set a text of your own, you may order a full version.


Record Audio
If this item is checked audio will be included in the video. If this item is not checked, the recorded video will be silent. If you checked this item, but the recorded video is still silent, then you should run command "Sndvol32.exe /r" from your computer "Start > Run..." dialog, and configure your recording options from the recording control panel correctly. For example, if you want to record from "Microphone", then you should check "Microphone" as recording source there, otherwise, you may check the item such as "Stereo Mixer" or something like this.


Play File After Recording
If this item is checked, when you stop recording, the program will lauch the player to play the recorded file automatically.


Region
Before recording, you should know what region you want to record. You may want to record the full screen, a fixed area, a window view area, or others. No matter what area you want to record, you must select the correct recording region here before recording.


Default
Click this button to set all controls to default values.


OK
Click this button to save and return.


Cancel
Click this button to return without saving values.


See Also:
---
Copyright © 2014 321soft.com