Introduction of 321Soft Screen Video Recorder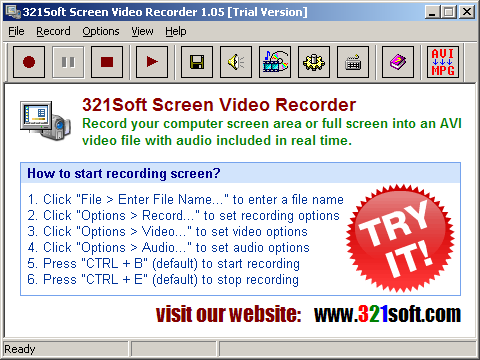 321Soft Screen Video Recorder is designed to record your computer screen (full screen or a fixed area) into AVI video file for further purposes like editing, burning DVD, making slide show movie, etc.
321Soft Screen Video Recorder is perfect for making training document, software demo video, slide show movie, etc. Your may run your software or document on your screen step by step, then record the whole procedure into AVI file. If you like you may speak and record audio simultaneously. And you may even record your mouse click with an enhanced effect so that when others watch your video may pay attention to the mouse moving tracks and clicking points, this is very useful to users who will use it to make software training documents. And you may also add some text on the video that you recorded to protect your copyright from being pirated.
The followings list some features of 321Soft Screen Video Recorder
Record your computer screen into AVI video
Convert AVI to MPEG
Play recordings after recording
Video options including video codec, video quality, key frames per second, recording interval between 2 frames, playback frames per second
Audio options including different frequency and channels, from 8000Hz to 44100Hz, from 8-bit to 16-bit, from Mono to Stereo.
Recording options including mouse, audio, blink, text, region, etc.
Support recording audio sound
Support recording mouse cursor
Support recording with text added on video
Support recording by normal region, fixed region, full screen, or windows.
Control recording by hot keys, toolbar, or menu. Hot keys for starting, pausing, stopping may be changed to your habit.
Software icon docked in system tray.
See Also:
---
Copyright © 2014 321soft.com